REFRIGERATED LIFTGATE TRAILERS
Need constant cold chain management and the benefit of reliable liftgate loading and unloading? Our refrigerated liftgate trailers deliver both.
Premier Trailer Leasing late-model reefer liftgates have the most powerful technology available to monitor and manage your fleet anytime, anywhere, to stay in constant control of your cold chain operations.

Your local branch can provide you with information about equipment availability and partner with you to create a trailer outsourcing solution to fit your needs.
Our reefer liftgates make refrigeration transportation easier

Tough trailers with power to spare
Our reefer liftgates are more than ready for the rigors of the road. All units are equipped with heavy-duty 5,500 lb capacity rail gates so you can handle the toughest loads with confidence.

Galvanized gates for long-lasting performance
Rust and corrosion can significantly impact the reliability of a liftgate. That's why ours are fully galvanized, keeping them looking and working like new even after thousands of miles and operating cycles. Plus the 84" x 86" platform provides ample space for lifting larger cargo items.

Keeping the battery up and service calls down
Battery failure can be a costly issue facing fleets with both refrigeration units and liftgates. The Purkey's Direct Max liftgate charging system utilizes a dual pole connection and voltage drop compensation to provide a faster recharge, maximizing energy transfer from the truck to the liftgate batteries, thus extending battery life and reducing downtime. We've also added solar panels onto the refrigeration units to help maintain healthy reefer battery voltage.


Keep every square inch of your cargo cool
Premier's late-model refrigerated liftgate trailers are configured with flat floors and one row of E-track. Air chutes eliminate hot spots, protecting your freight and minimizing cargo claims.

Constant control, ongoing visibility and complete traceability throughout the supply chain
Every Premier reefer liftgate is equipped with temperature monitoring, two-way remote control and GPS tracking. From your desktop or any smart device, you can remotely turn the units on/off, change set point, change operating mode, run pre-trips or initiate a defrost. You'll receive real-time alert notifications for shutdown alarms, low fuel levels, low battery voltage and other mechanical issues that could occur, as they happen. Instantly download reports to save and share with your customers, assisting you with regulatory compliance and traceability. Learn more >

Air ride suspension: better for your cargo and your drivers
All Premier refrigerated liftgate trailers are equipped with an air-ride suspension to protect delicate cargo, maximize your load versatility with back-hauls, and improve driver satisfaction.
The trailers you need, where you need them
With one of the largest fleets in the industry and a growing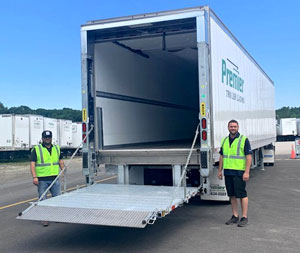 nationwide network of locations, Premier has the equipment you need, right where you need it — whether you're looking for a long-term lease or a short-term rental. And it's easy to check equipment availability any time, day or night. When you choose Premier, you get a friendly, knowledgeable partner empowered to meet your specific business needs with innovative, creative solutions, even if it's something out of the ordinary. Contact us and let us know what you're looking for, and we'll take it from there. Premier: A new lease on trailer leasing.